The Temple of Speed celebrates its Centenary with an iconic poster collection
Autodromo Nazionale Monza presents a limited edition of 100 pieces to retrace the first 100 years of life and tell through images unforgettable moments that belong to the history of motoring and are part of the memory and identity of our country. On sale 11 significant posters of the Italian Grand Prix from 1922 to today re-edited by Automobilist
For its Centenary the Autodromo Nazionale Monza has decided to create a unique, limited edition artistic work dedicated to all motoring enthusiasts and to those who, at least once, have walked the entrance to the Temple of Speed to attend a unique and recognized event worldwide like the Italian Grand Prix.
It is a special collection that includes 11 posters , or one for each decade of activity plus a commemorative one in the year of the Centenary. A journey through the history of the editions of the Italian Grand Prix as well as a real manifesto on the evolution of the racing car. The posters, in fact, are inspired by the official Grand Prix posters that have remained in the annals starting from 1922, the year of the birth of the Autodromo Nazionale Monza and passing, for example, from the 1949 edition won by Alberto Ascari to that of 1976. which saw the unforgettable Ronnie Peterson triumph, to get to more recent years such as 2003 in which Michael Schumacher won and 2019 with the triumph of Charles Leclerc.
The limited edition was conceived and re-edited by international artistic collective Automobilist, whose mission is to give new energy through art and technology to motoring stories in collaboration with the most renowned houses in the sector as well as with the Federations and the most important players in the sporting and non-sporting panorama. Among the most important collaborations are F1, WRC, FIA, 24 Heures of Le Mans, Oracle Red Bull Racing, Porsche and the Formula 1 teams of McLaren and Mercedes.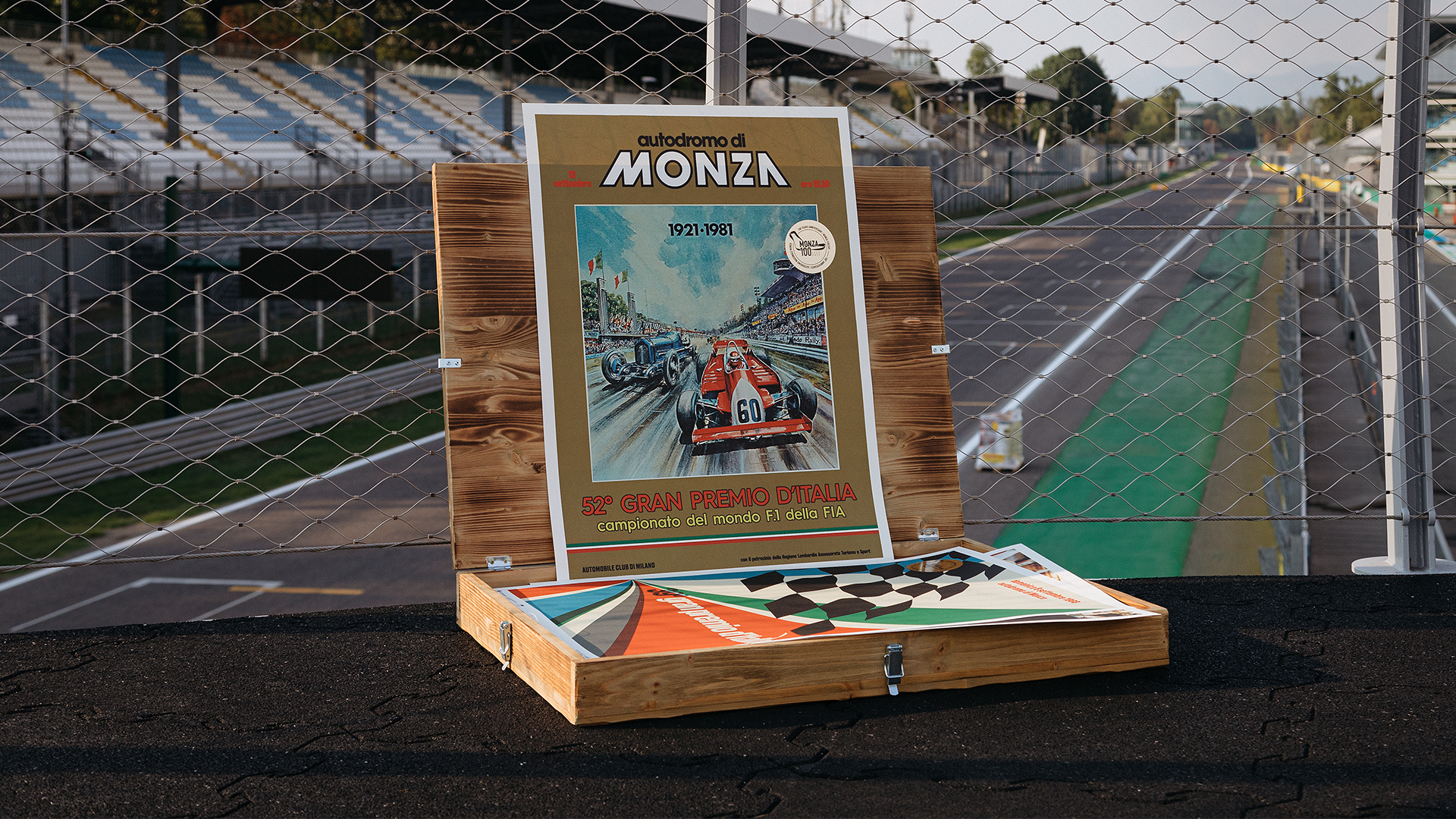 The special collection will be produced in only 100 pieces and will be available on the shop of the official website of the Monzanet.it Circuit at the price of 799 euros.
At the same time, an additional 100 pieces will also be available for each of the 11 posters that can be purchased outside the collection at the price of 69 euros, excluding the posters of 1922 and 2022 at the price of 129 euros.
This initiative is a further piece within the wider activity plan that Autodromo Nazionale Monza conceived in the year of the Centenary: it was in fact September 3, 1922 when, on the impulse of the Automobile Club Milano, world motorsport and motor racing have found their home. The Monza Circuit is not just an asphalt track, but has represented and given voice to the stories of many men and women who, competing as drivers, builders, designers, technicians and mechanics, have fueled the passion for this sport and contributed to progress technology of the automotive sector.